COMMERCIAL ROOF REPAIR PRODUCTS AND MAINTENANCE SYSTEMS
Fix Leaky roofs, lower A/C costs, and restore commercial roofs with our industry-leading elastomeric repair compounds and protective coatings.
Topps® Products has been providing industry-leading roofing solutions to contractors, building owners, and facilities managers for over 30 years. Our roof repair products are second-to-none and they are backed by our dedicated support team of industry experts who are here to help you get the job done right every time.
SAVE ENERGY WITH TOPPS WHITE ROOF COATINGS
Often, building managers and roofing contractors decide to turn to roof coatings in order to repair or prevent a problem. However, coating your roof doesn't only prolong its life. It actually makes your roof a better, more energy-efficient part of your building. White roof coatings can have a substantial impact on the temperature of your building, resulting in significant energy cost savings.
The use of time-tested and climate-proven products like our Topps Seal® white roofing coating, an ENERGY STAR® certified product, dramatically drops the heat island effect of your roof and can result in significant energy savings on cooling bills long into the future. On hot, sunny summer days, the sun can heat up dry, exposed urban surfaces, such as roofs and pavement, to temperatures 50–90°F (27–50°C) hotter than the air. To combat this effect, a white roofing coating:
Helps the environment: reduces heat island effect, greenhouse emissions, and unnecessary additions to the landfill.
Can cut peak cooling demand by up to 15%, significantly improving energy savings.
Is ENERGY STAR® qualified with independent testing
Protects the roof from UV and weather damage.
Topps Seal® white roofing is proven to reduce rooftop temperatures by as much as 50°F (10°C) or more. Less heat on top means less heat to radiate inside your building, thus resulting in more energy savings. Elimination of solar radiation also protects your roof from thermal movement, which is the most common cause of roof failure and premature breakdown.
COMPARE TOPPS PRODUCTS TO INDUSTRY STANDARDS
Because all materials diminish with time, ENERGY STAR® provides two cool roof product rating measures:
A Proven initial minimum cooling standards requirement for new products prior to exposure. This is what most manufactures will show you in their literature.
More importantly, and often not mentioned, it also rates product performance after aging and constant exposure to the elements.
Topps Seal®—together with our other cool roof coating products—continues to exceed performance standards after aging, well beyond existing government standards. When comparing manufacturers, be sure to look for the after-aging results.
With Topps®, we consider performance after aging more important than when a product is new. New is a short-lived window of time when it comes to roof performance. Longer lasting performance matters much more. Topps® technology is built on 100% synthetic ingredients and has been carefully engineered to last.
ASTM - Acrylic vs. 100% rubber, water-free roof coatings
The chart below shows ASTM Miami/Dade standards (left column), a certification required for products to be used under the most demanding conditions of the tropics. The corresponding certified physical properties for Topps Seal® are in the right column.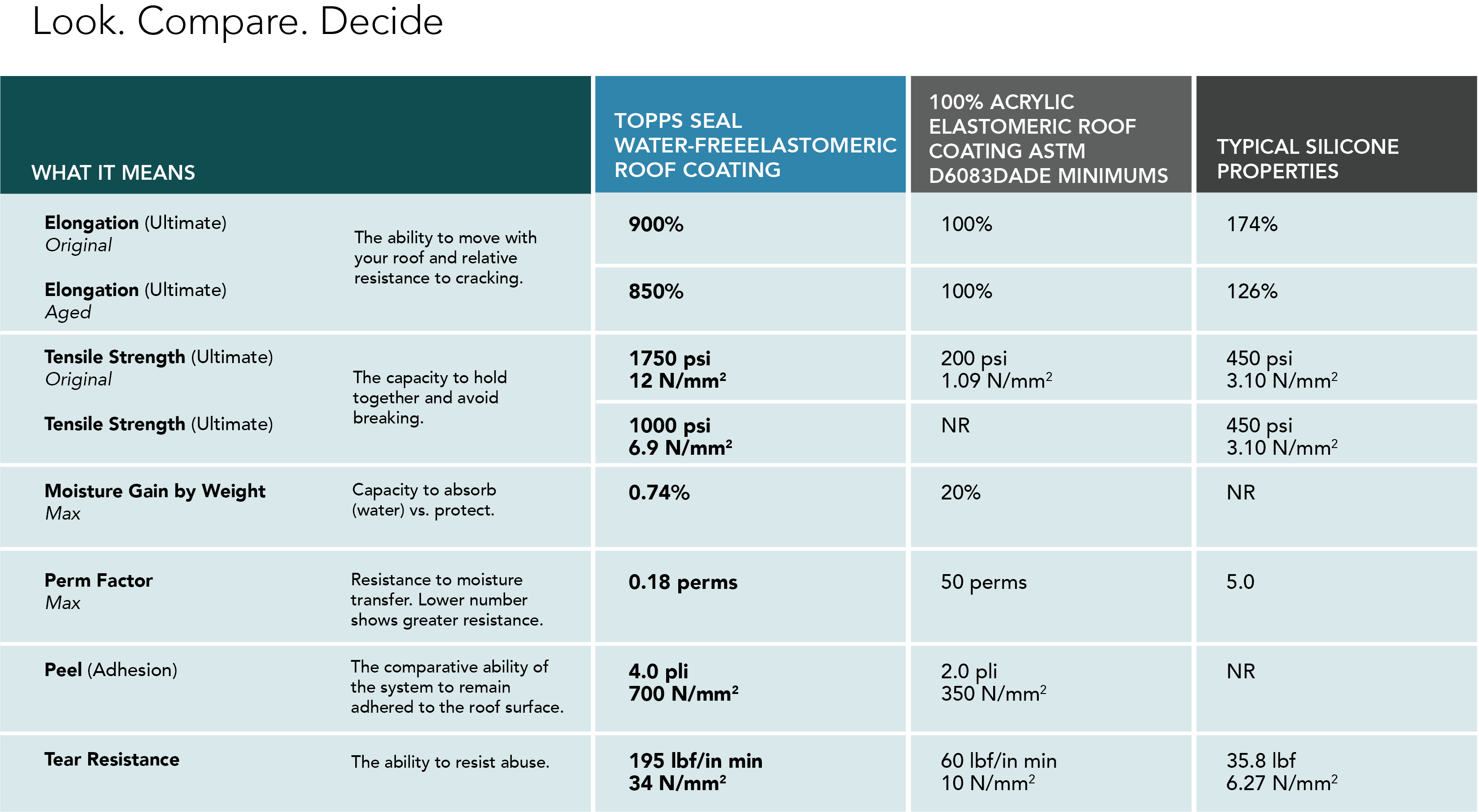 Topps exceeds industry standards in every category. You'll see why we are one of the most trusted names in the roof coatings industry.